After producing your Camtasia projects, the net result is a collection of independent web files, scripts, videos and other assets. If you are looking to group multiple Camtasia projects together to create a single course, you'll need to upload the lessons to Screencast.com, YouTube, or a Learning Management System. But if you want to create a website that includes a menu of your lessons, you will need to get a webmaster involved... someone who can create a website that links to all of the produced files that make up your course.
If you don't have access to a webmaster, Camtasia MenuMaker will prove invaluable. MenuMaker packages documents, graphics, multimedia files and videos all into a single menu intended to be placed onto a CD-ROM, DVD or other type of drive.
Before creating a menu, produce two or more Camtasia projects as videos.
To create a menu, open a Camtasia project and choose Tools > Studio tools > Camtasia MenuMaker. From within the MenuMaker Wizard, select Create a new project using the Wizard and click the OK button.




Next you can choose a Template for your menu. After selecting a Template, click Next.




Find and open your produced videos (in the image below, I've added three videos to my menu).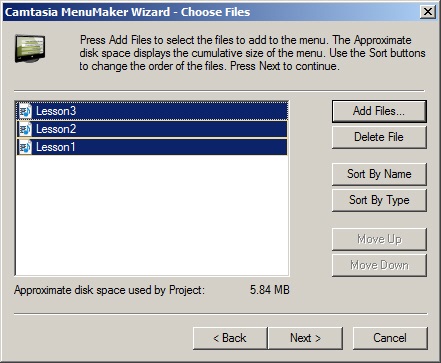 On the final screen, give your menu a title and click Finish to create the menu.




And that's it! Of course, if you want to control the look of the menu, there are plenty of things you can do to customize it... but that's a story for next week.