Over the past few weeks I've taught you about text hyperlinks and object hyperlinks. This week, let's dive into yet another way you can get your learners to a website: Web objects.

While both text and object hyperlinks will take the learner to a website, the resulting website will either appear in a new browser window/tab, or replace the lesson completely. In the case of the latter, the learner will need click the browser's Back button to get back to the lesson.

Web objects allow you to embed a website directly on a Captivate slide. Once the website loads, the learner can interact with the website as normal (without ever leaving the lesson)
To add a Web object to a slide, click Objects and choose Web.
With the object selected, visit the Properties inspector. You can add a Web address (just like any hyperlink). In the image below, notice that there is an 
Embed code
 option. You'll find the ability to Embed code particularly useful if you want to control the size of the window when it appears on the slide or its relative position onscreen.
You have the ability to 
Auto Load
 the website and control whether the website appears on the Slide (which is the default) or in a new browser window. And you can add a border to the object, allow the learner to scroll through the website, and add a Loading Animation (useful if the target website is large and is going to take some time to download).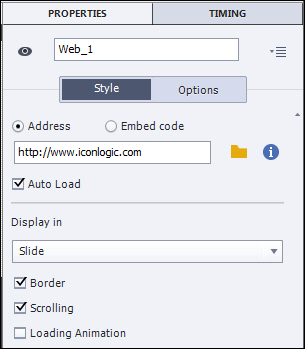 In the image below, a web address has been added to the Address area. Notice that it appears directly on the Captivate slide (there's no need to preview in a Web browser first).
In the image below, check out how the web browser displays the website (and I was able to scroll around the website).
***