If you select portions of a video clip on the Camtasia Studio Timeline and cut, you have historically ended up with multiple clips. At that point, it's possible to drag the split portions on the Timeline as needed or apply Visual effects. What you cannot do with multiple clips is apply an effect that spans multiple splits. I've always found that shortcoming to be an annoyance when working with Camtasia.
Fortunately, TechSmith addressed the issue in Camtasia 8 with a feature known as Stitching.
Stitching is enabled by default. You can confirm this by choosing Tools > Options. Select the Program tab and ensure that Enable auto-stitching is selected.
With Stitching enabled, I've selected a portion of a video on my Timeline and Cut it.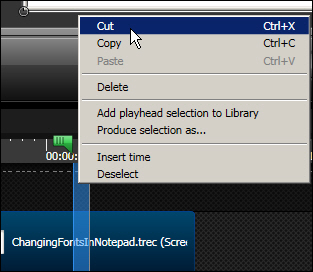 When cutting content in older versions of Camtasia, the cut portion of the video would be replaced by a split (two video segments). In Camtasia 8, instead of multiple segments you'll see a stitch between what would normally be two segments. 
And here is where the Stitch feature pays dividends: I added an animation at the beginning of a video. In the image below, you can see that I've actually stretched the animation across the stitch itself (something that isn't possible when you're working with splits). 
***
Looking to learn all things eLearning? Check out these live, online 
eLearning mini-courses
 (including a 3-hour introduction to Camtasia).