You can also apply special effects to Captivate slide objects without ever leaving Captivate. All you have to do is right-click an object and choose Apply Effect. From there, you can use the Effects area on the Timing Inspector to add, remove, and control the timing of several effects that come with Captivate.

I needed to add an effect to a text cation. I selected the caption and, on the Timing Inspector, Effects area, I chose Entrance from the third drop-down menu. From the bottom of the Entrance Effects, I clicked the move right icon (>) and chose Fly in From Right.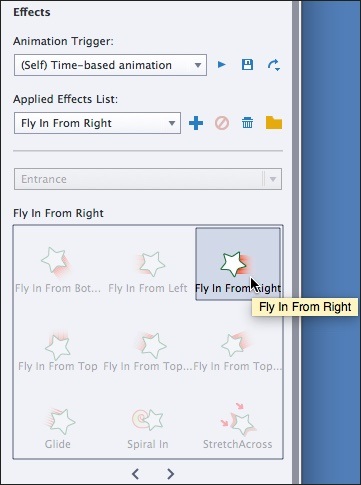 On the 
Timing Inspector
, the 
Effect
 was been added to the 
Applied Effects List
. If I needed to delete the Effect, I could easily do so by clicking the 
Trash
 icon to the right of the Applied Effects List drop-down menu.
On the slide, I noticed that an 
FX
 had been added in the upper right of the selected Text Caption. In addition, there was a red line starting on the 
Pasteboard
 and ending up on the caption.
I went on to add a second effect to the object. Upon previewing the effect (via 
Preview > Play Slide
), I noticed that both effects occurred at the same time (I wanted one to occur and then, after a brief delay, the other). That was easy to fix via the Timeline. 
I clicked the arrow to the left of the caption containing both effects...
... then I dragged one of the effects right on the Timeline, and  then changed its timing.
What I love about this is that if you know how to use Captivate's Timeline, adjusting the timing of an Effect is no different than changing the timing for any slide object.
***