Adobe released RoboHelp 2015 last week, a major upgrade sporting several enhancements. This week we take a first look at some of the big changes.
Ribbon Based Interface

The menu has been redesigned to make RoboHelp easier to use. Options are sensibly arranged and menu inconsistencies have been cleaned up. Lesser known features like search synonyms are much easier to find and use.
Small improvements, such as working with tables, make editing content much easier.
One of my favorites is the Locate Item tool. Open a topic and select an image or a Captivate movie. Click the Locate Item tool and the item will be highlighted in the Project Manager.

Skins and Layouts
RoboHelp 2015 includes new WebHelp skins and Responsive HTML5 layouts. The WebHelp skins are clean and modern. Both WebHelp and Responsive HTML5 support Right-to-Left languages. Though for WebHelp you will have to use one of the six new skins.




The Responsive HTML5 Layouts have more customization options. It is now possible to choose which panes to include in the output, just as with WebHelp. The layouts have Facebook share and Twitter buttons included as well.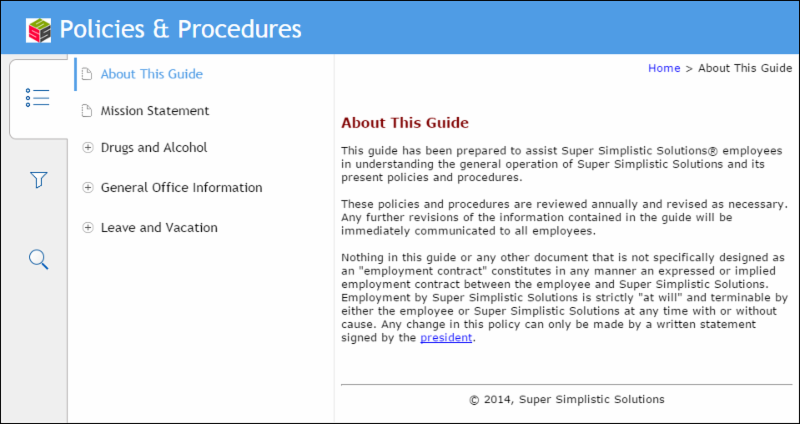 Important Enhancements:
Named Conditions: Sensible names for Conditional Build Expressions.
Dynamic filters: Conditional Build Tags on steroids. Dynamically switch Conditional Build Expressions in your output for fine grained control.
Improved search results: Control the topic preview text in search results.
Mobile App output: Create a mobile app without any coding.
Right-to-Left: Output for right-to-left languages.
Find and Replace: The Find and Replace pod has new powerful features.
Scalable video: Adobe Captivate videos scale in Responsive HTML5 output.
I've mentioned what I consider to be the most important enhancements in RoboHelp 2015. Stay tuned for articles on each of these enhancements in the weeks to come.
***
Looking to learn RoboHelp? We offer a live, two-day online RoboHelp class once a month. Feel free to contact us to learn other ways to meet your RoboHelp training requirements.