In the past, if you wanted to present multiple versions of an object to learners as they interacted with the lesson, you needed to add multiple objects to the slide, hide them, and then use advanced actions to make visible objects hide and hidden objects appear.
I'm happy to report that Adobe Captivate 9 now supports multiple states, allowing you to develop interactive content easily without using multiple objects or the "hide and show" technique mentioned above. In addition, using  states allows you to clean up what would otherwise be a cluttered, complicated project Timeline. 
Here's a simple example of how easy it is to use states. In the image below, I've added a standard button to a slide.
I'd like the button to look different when learners interact with it. For instance, I'd like the button's text color (currently dark red) to change to white when learners roll over the button.
With the button selected, I went to the Properties Inspector and clicked State View.
At the left of the Captivate window, the Filmstrip is replaced with the Object State panel. By default, there will always be three states: Normal, RollOver, and Down. You can add as many states as you can imagine by clicking the New State button. Because I want to change the way the text looks when learners roll over the button, I'm going to edit the existing RollOver state.
After clicking the RollOver State, it's a simple matter of visiting the Properties Inspector, Character area, and changing the font color to white.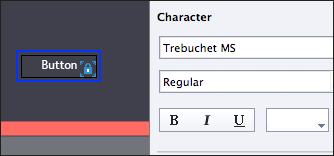 I could change more attributes of the button of course, but in this instance the font color was all that I wanted to be different. From the toolbar, all that's required now is to click Exit State.
If you followed along with the steps above, preview your project and test the state by rolling over the button.
Keep the following in mind when working with states:
Any object can have multiple states
Interactive objects have in-built states
You can customize the states of static and interactive objects
Buttons and smart shapes have in-built states with associated styles
***