People love to talk about how they want their eLearning courses to be interactive, but to be really effective eLearning, it has to do more than just interact with the learner; it has to engage them. 



Just adding a simple button is interactive, but it's not engaging the learner. They have not been asked to think about anything other than tapping a button. No learning here! 



In this example, I am giving the learner a choice, asking them to make a decision based on what they have learned. Both buttons will take them to the next slide and explain the correct answer, but they have been asked to think. Therefore, I engaged them. This is a simple but effective way to add engagement.
Learn. Then Do.
Just as you would review with students in a traditional classroom, it's equally important to review with them in an eLearning course. Think "Learn. Then do."
This technique can be accomplished in a number of ways. One is to use survey questions after each topic the learner is taught. Survey questions are usually non-graded questions you can ask a learner--to keep them interested and to help review and retain the content.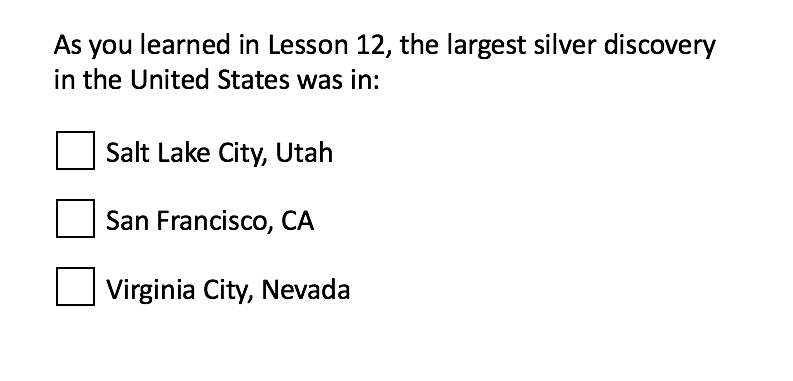 Something as simple as a survey question can increase retention of knowledge learned. (By the way, the answer is the Comstock Lode in Virginia City, NV.) Try different types of questions--drag and drop, multiple answer, etc. to keep things interesting.

Video
Including video in your eLearning courses is another brilliant idea for adding engagement. Short, well-produced videos can spice up a course, and multimedia is always a welcome addition. Consider adding short (3-5 minute) videos throughout your courses, and follow up with a quick review.
Multimedia, such as video, adds a new layer of interest to your eLearning courses. Mixing it up is a good way to keep your learner on their toes.
Branching
To give your learners a non-linear learning experience, consider branching. Branching means you ask a question and based on the learner's response, they go in a different direction.
In this example, the learner is asked to choose a button. Each button takes them in a different direction--perhaps with detailed information on their hometown, or pricing sheets based on their location. Always give them a way to navigate, just in case they realized they chose the wrong answer or want a way back.
In conclusion, the best way to help your learners retain the knowledge is to engage them while they are learning. Interaction is crucial to any eLearning course, but give it a purpose.